Media /
News: University of Strathclyde's Jordan Curtis crowned 2019 Maritime Master
News: University of Strathclyde's Jordan Curtis crowned 2019 Maritime Master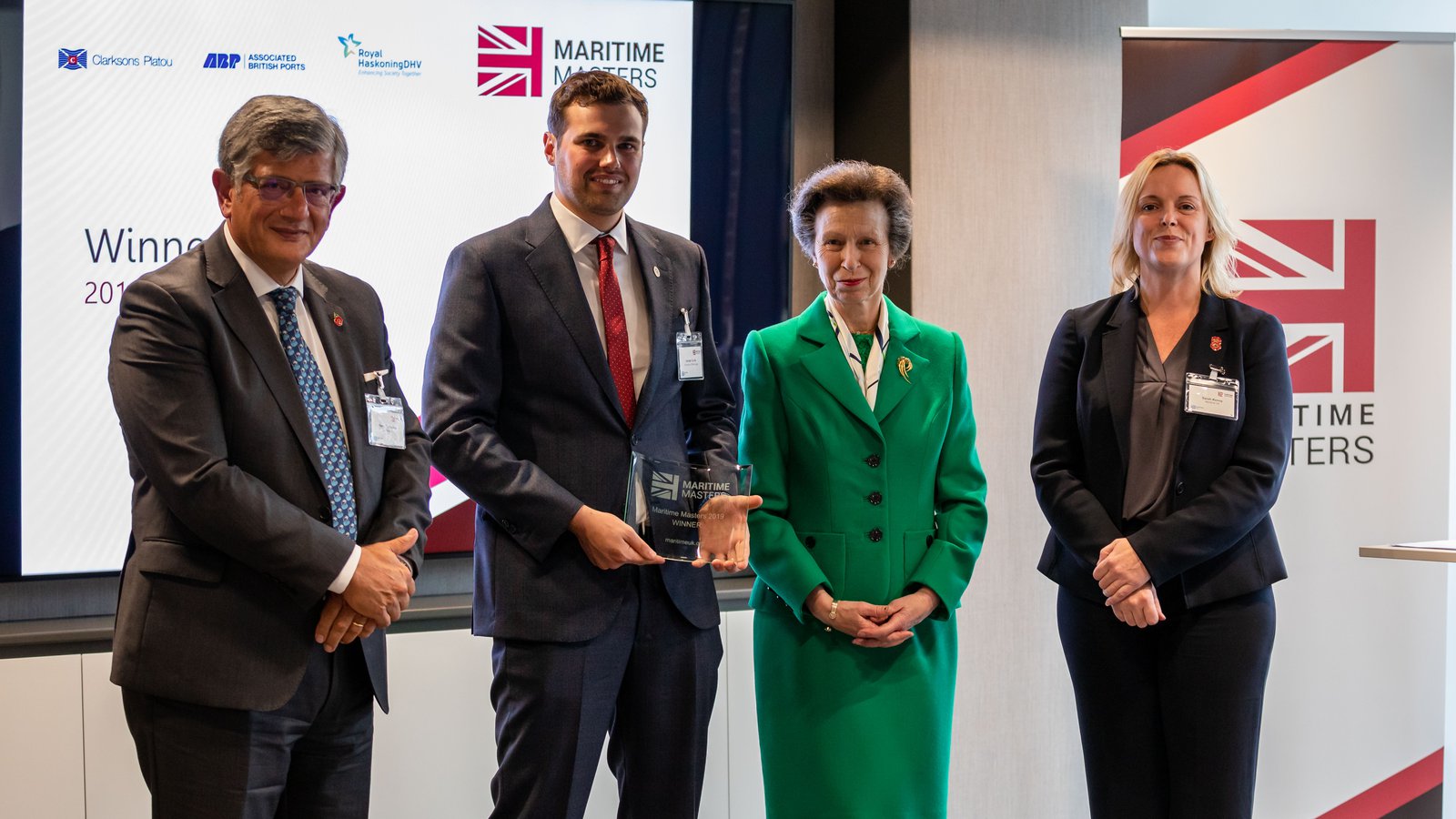 The winner of the 2019 Maritime Masters programme is Jordan Curtis from the University of Strathclyde, who presented his research along with eight other student finalists at the Maritime Masters Finalist Reception hosted at Clarksons Platou yesterday (24 October).
Curtis' research presentation titled 'An Investigation into the aerodynamics of a wingmast and its subsequent effects on sail performance' was voted the best by an audience of industry representatives. Maritime UK Patron HRH The Princess Royal presented the prize, along with Chair and Vice-Chair of Maritime UK, Harry Theochari and Sarah Kenny.
The Maritime Masters programme aims to encourage engagement and strengthen ties between the UK's maritime industries and academia, whilst developing a pool of world-class maritime talent benefitting from working closely with UK industry during their studies. The programme promotes academic excellence among students and provides valuable research to support the work of the UK maritime sector. This year, the programme has been sponsored by ABP, Royal HaskoningDHV and Clarksons Platou.
From amongst 27 participants, nine finalists were chosen to represent the nine participating university. The research presented by the finalists at yesterday's reception represented a wide variety of disciplines, ranging from topics such as environmental regulations, Maritime 2050, autonomous shipping, ship recycling, cyber security, waste treatment and port management. The range of topics demonstrates the number of pressing issues being faced by the industry as it looks to major transformation, including digitalisation, decarbonisation and automation.
Curtis' research project concerned the optimal design of wingmasts in offshore racing, where a 1% increase in performance can be the difference in victory and defeat. Mast shape has generally been ignored in the modelling of yacht performance, and Curtis aimed to explore the modelling of various mast designs by using numerical analysis and RANS CFD. When changing the mast design from Cylinder to Marchaj style, it was found that there was a 4% increase in aerodynamic performance. There was also a 10% increase in aerodynamic performance when rotating a Teardrop mast from 0° to 30°.  The numeric results were imported into a Veolicty Prediction Program, which showcased the results in a realistic setup. Curtis demonstrated that mast design has a profound impact and can aid in gaining the coveted increase in performance in offshore racing. 
The 2019 student finalists were:
John Hayes - University of Southampton: 'An experimental study of the global dynamic responses and mooring line characteristics of a spar-type floating wind turbine in rogue waves'
Jack Lockett - University of Cardiff: 'How achievable is the International Maritime Organization's target to halve vessel greenhouse gas emissions by 2050?'
Kumaran Kathiresan - Liverpool John Moores University: 'What commercial or operational triggers can be used to persuade port authorities around the world to follow Singapore's lead in mandating the use of mass flow meters for all fuel and distillate bunker deliveries?'
Jordan Curtis - University of Strathclyde: 'An investigation into the aerodynamics of a wingmast and its subsequent effects on sail performance'
Ben Richardson - Newcastle University: 'Unmanned Autonomous Vessels and their impact on accident statistics'
Rachel Genovese - Queen Mary, University of London: 'A critical assessment of the regulation on ship recycling'
Georgios Koligiannis - University of Plymouth: 'A critical analysis of maritime cyber security: Possible countermeasures that could be adopted from the financial sector and the military industry'.
Ernest Young - UCL: 'Design of waste and sanitation treatment system at sea'
Maria Ceballos-Espinosa - Cass Business School: 'ESI Score: An insight to incentives for UK ports'