Latest /
Artemis Technologies sponsors Apprentice of the Year Award at the 2022 Maritime UK Awards
Artemis Technologies sponsors Apprentice of the Year Award at the 2022 Maritime UK Awards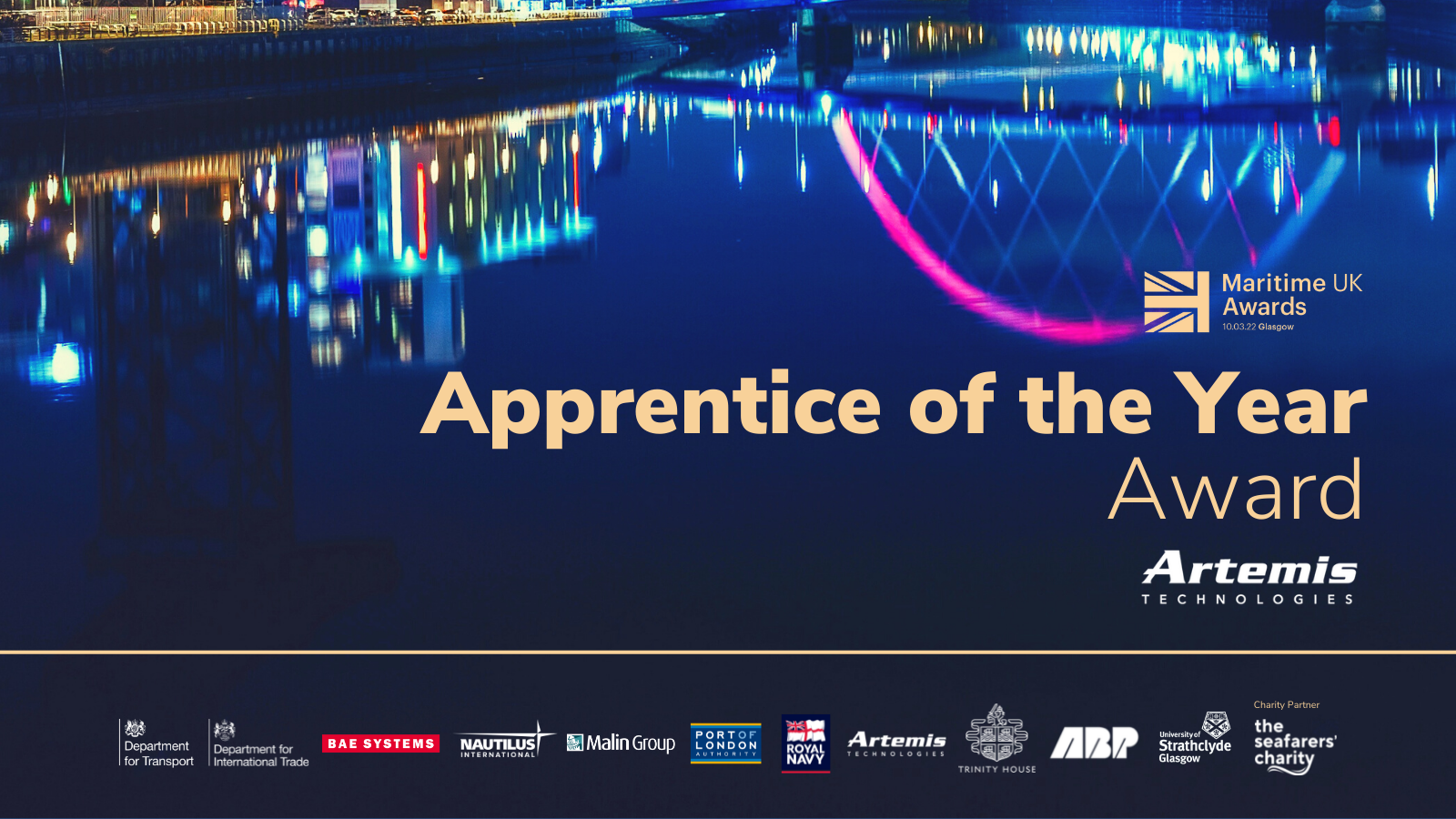 Artemis Technologies has been announced as Category Sponsor for the Apprentice of the Year Award for the third national Maritime UK Awards to be held at the Glasgow Science Centre on 10 March.
The Maritime UK Awards, recognise the very best of the UK's maritime sector, organised by industry, for the benefit of the industry.
Artemis Technologies are experts in green maritime innovation, digitalisation and autonomy. Building on their high-performance background, their mission is to lead the decarbonisation of the maritime industry through the design and development of transformative zero-emission vessels.
At the forefront of maritime engineering, they utilise their specialist expertise to provide tailored services to both high-performance and commercial clients, as well as develop unique products like their disruptive Artemis eFoiler® electric propulsion system.
Dr Iain Percy OBE, CEO of Artemis Technologies said,
"Artemis Technologies has always worked closely with Maritime UK and we are proud to lead the Northern Ireland Regional Cluster. We share a lot of the same values as a company and recognise the key role the maritime industry plays in trade and transport.
"The Apprentice of the Year is one particular award that is close to our hearts, as we recognise the importance of investing in future skills. Engaging with apprentices and encouraging younger people to consider jobs to support the green revolution is critical if we are to achieve our net zero goals.
"The Maritime UK awards are a great event in which companies are recognised for their environmental and economic achievements. It is very humbling to be involved in this event as a sponsor and have the opportunity, and in particular, commend younger apprentices for their efforts in moving towards a greener future for the industry."
Ben Murray, CEO of Maritime UK said,
"We are delighted to welcome Artemis Technologies as sponsors for the Apprentice of the Year Award – a company backing its words with action as it recruits its own apprentices to help drive the decarbonisation of the sector.
"Apprenticeships are particularly suited to the maritime sector because so many jobs require the mix of practical learning and theoretical study which is at the heart of the apprenticeship model.  From managing a busy port to catering on a cruise ship, from navigating the open sea to lifting a customer's yacht ashore to clean it, from building a fast ferry to driving it, the maritime sector offers a wide and growing range of apprenticeships as the starting point for some very rewarding careers."
The awards, which are open to companies from across the breadth of the maritime sector including its shipping, ports, services, engineering, and leisure marine industries, opened on 10 December and applications are already piling in.
To find out about the 2022 awards, the categories, sponsorship opportunities and how get tickets visit www.maritimeuk.org/awards
To find out more about Artemis Technologies visit https://www.artemistechnologies.co.uk/about/